Introduction Top
Education has the power to transform people's lives. Promoting equality and encouraging diversity is core business for education, through questioning gender stereotypes, providing windows of opportunity, opening doors of access, and building positive, inclusive learning environments.
Teachers are at the heart of education. Quality education needs qualified and motivated teachers with fair working conditions, including equal pay for women and men. Teachers must be trained to deal with the dynamics of sexism, racism and homophobia in the classroom.
Education unions play a key role in shaping education systems and developing societies. As such, unions need to be a role model in living the values of equality, diversity and empowerment in all aspects of union work.
Working to achieve gender equality in unions, education and society has been a principal aim and a major work priority for EI since its Founding Congress in 1995, and this is reflected in the work of all five of EI's regions. Many education unions and their women's networks are bringing changes to unions and society and also transformative solutions to the same old problems.
In January 2011, EI convened the On the Move for Equality Conference, the first EI World Women's Conference. This conference provided the space and opportunity for EI's broad and diverse membership to share, analyze, and contribute to a forum, the outcomes of which are informing EI's work on gender equality now and in the years to come.
Policy Top
EI Constitution
Article 2 of the Constitution of Education International outlines the fundamental objectives of non-discrimination and empowerment of women:
h) to combat all forms of racism and of bias or discrimination in education and society due to gender, marital status, sexual orientation, age, religion, political opinion, social or economic status or national or ethnic origin;
i) to give particular attention to developing the leadership role and involvement of women in society, in the teaching profession and in organizations of teachers and education employees.

EI Resolutions
The EI Policy Declaration on Women in Education and Teachers' Organizations, adopted by the EI First World Congress in 1995, created the foundation for EI's action in defence and promotion of these principles of equality. The resolution, in addition to defining the role of EI, called attention to the urgent need for teacher unions to provide equality in the following areas:
- within the education system
- within teachers' and educational employees' organizations
- in society as a whole.
The policy declaration has been complemented by successive resolutions on related themes through successive World Congresses. These serve to further articulate the equality agenda.
2011 – Gender Equality
2011 – Education and the Elimination of Violence against Women
2011 – Respect for Diversity
2007 – Gender Dimensions of International Migration
2007 – Gender and Pay equity
2004 – Gender and HIV/AIDS
2001 – Trafficking in Women, Girls and Boys
2001 – Gender Perspective in Development Cooperation
1998 – Support to Afghan Women
1998 – Global March for Women in the Year 2000
1998 – Feminised Nature of the Teaching Profession
1998 – The Girl Child
1995 – Violence Against Women and Girls

International Legal Frameworks
The protection of women's rights in international legislation originates from the Universal Declaration of Human Rights of 1948, which is intended to apply to all human beings, both men and women.
EI encourages its member organizations to lobby their national governments to ratify (as well as respect) several international instruments that protects gender equality, such as the UN Convention on the Elimination of all Forms of Discrimination Against Women (CEDAW) and implement the Beijing Platform for Action (BPFA) and the Millennium Development Goals (MDGs).
EI also encourages its member organizations to intensify their efforts at national, regional and international levels for the ratification and full implementation of the Conventions enshrined in the ILO Declaration on Fundamental Principles and Rights at Work, including Conventions 100 (Equal Remuneration) and 111 (Discrimination), as well as Conventions 156 (Workers with Family Responsibilities), 175 (Part-Time Work), 177 (Home Work), and 183 (Maternity Protection), and for effective follow-up to the Conclusions of the ILO Discussion on Decent Work and the Informal economy (2002), and to the ILO Conference Resolution on gender equality, pay equity, and maternity protection (2004).
Activities Top
EI Women's Networks
Theregional and sub-regional women's networks have contributed fundamentally to promote women's empowerment and leadership. Their work is supported through provisions in the EI Programme and Budget, through development cooperation projects, and other means available.There are currently 10 sub-regional or regional networks in place: one Pan-African and five sub-regional; three sub-regional in Asia-Pacific; and one Caribbean; one European; as well as one regional and three sub-regional women's networks in Latin America.
Booklet on EI women's networks: This booklet presents brief descriptions of the EI women's networks: Their history, their objectives, challenges and achievements, as well as future strategies and priority issues.
Red de Mujeres trabajadoras de la educación de América latina
South Asian Association for Regional Cooperation (SAARC) Women Network
Association of Southeast Asian Nations (ASEAN) Women's Network
European Trade Union Committee for Education (ETUCE) Gender Equality Project

On the Move for Equality Conference
On the Move for Equality, the first ever EI World Women's Conference, was held in Bangkok, Thailand from 20-23 January 2011. The Conference was participatory in nature and represented the diversity of EI's membership. It served as a vehicle to inform, stimulate and move forward in a significant way the collective means of achieving gender equality, particularly in unions, and through unions, in education and society. This conference provided the space and opportunity for EI's membership to share, analyze, and contribute to a forum, the outcomes of which are informing EI's work on gender equality now and in the years to come.
Go to the Conference webpage to find documents, speeches and presentations, reports, videos and photos of the event.

Participation at the UN CSW
Together with the International Trade Union Confederation and Public Services International, EI brings the trade union perspective to the discussions at the annual sessions of the United Nations Commission on the Status of Women (UN CSW). Connected to the NGO Committee on the Status of Women, a strong trade union delegation monitors progress, actively participates in the discussions and influences the outcomes of the UN CSW.
Read the joint EI-PSI-ITUC Trade Union Blog "UN CSW: A Union Perspective".
2011 – EI-ITUC-PSI Joint Statement to the 55thSession of the UN CSW
2010 – EI-ITUC-PSI Joint Statement to the 54thSession of the UN CSW
2009 – EI-ITUC-PSI Joint Statement to the 53rdSession of the UN CSW
2008 – EI-ITUC-PSI Joint Statement to the 52ndSession of the UN CSW
2007 – EI-ITUC-PSI Joint Statement to the 51stSession of the UN CSW
2006 – EI-ICFTU-PSI Joint Statement to the 50thSession of the UN CSW

2013 - EI-ITUC-PSI-UNI-IndustriAll Joint Statement on Violence against Women and Girls
Campaigns
Pay Equity Now!
Pay equity is important. Why? Because pay equity is a fundamental matter of equality and fairness. But unfortunately, millions of women around the world continue to be disadvantaged on the pay roll. By launching the Pay Equity Now! campaign, Education International affirms the right of all workers to equitable wages, and aims to help education unions overcome gender discrimination in employment.
Visit the EI Pay Equity Now webpage to find questions and answers on pay equity, background documents, campaign tools, and reports of pay equity campaigns from EI's affiliates.
International Women's Day
Every year, EI celebrates the International Women's Day on 8 March.
Read the EI Statement for 8 March 2011
International Day for the Elimination of Violence against Women
EI participates in activities around 25 November, the International Day for the Elimination of Violence against Women.
Read the EI Statement for 25 November 2010
As a member of Global Campaign for Education, Education International campaigns for the Global Action Week (GAW) on a yearly basis.
The theme of 2011 "Education for Women and Girls" fitted well in the sequence of several events focusing on gender equality. It followed three major events: EI's first World Women Conference, the centenary of International Women's Day and the annual UN Commission on the Status of Women. This year ten member organisations from all regions utilized funding from EI for their campaigns. The theme brought out many issues affecting women and girls and received an overwhelming response. This year's event focussed on successful stories on women and girls but also on the loss of educational opportunities for many of them collected into the "Big Story" .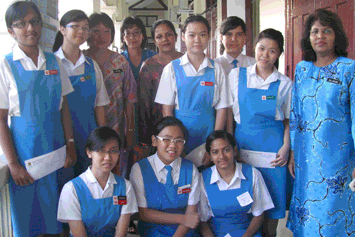 As in Pakistan, Burundi and Morocco teacher trade unions were active in organising marches in order to reach rural communities. In Malaysia and Montenegro students of different age groups participated in story writing contests and the best ones were awarded prices. Several EI affiliates, for instance in Albania and Sri Lanka, organised meetings with their respective Ministry of Education. The coalition in Sri Lanka started undertaking a sample survey of women prison inmates to show the relationship between lack of education and the involvement in criminal activities. In Belgium, a giant flashmob was organised in the city centre of Brussels, which was a great success.
Many more activities have been carried out by national coalitions and can be found under: http://www.globalactionweek.org/en/stories/index
It is of major importance to follow-up on the policy announcements made by governments during GAW.
There is an urgent need to develop more effective advocacy for girls' education and strengthen the gender dimensions of existing educational institutions and their infrastructure which coincides with the results of EI's first World Women Conference.
Documentation Top
Report on the Status of Women
Since 1995, the Secretariat regularly conducts a global survey on the status of women in unions, education and society.
2011 – 6. Report on the Status of Women in Unions, Education and Society
2007 – 5. Report on the Status of Women in Education, Unions and Society
2004 – 4. Report on the Status of Women in Member Organisations, Education and Society
2001 – 3. Report on the Situation of Women in Affiliated Organisations, Education and Society
1998 – 2. Report on the Situation of Women in EI Member Organisations, Education and Society
1995 – 1. Report on the Situation of Women in the Affiliated Organisations, Education and Society

Other Global Reports and Publications
2011 – Equity Matters: Report on Equity in Education
2011 – On the Move for Equality: Guide to EI's First World Women's Conference
2011 – EI Regional and Sub-Regional Women's Networks
2010 – Pay Equity: Background Articles for Teacher Trade Unions
2009 – Give girls a chance: End child labour now
2009 – Pension Reforms in Europe and their Impact on Women
2007 – Building a Gender Friendly School Environment: A Toolkit for educators and their unions
2005 – Pay Equity: How? Resource Kit for Member Organisations
2004 – Equality for All – Educating for Tolerance
2002 – Living and Learning Together – Report of the Malta Conference
2002 – Pay Equity: Training and Awareness Raising - Union education manual
2000 – Education of Girls
2000 – Poster: World March of Women
1998 – Women and human rights
1998 – Women and the Economy
1997 – The Girl Child
1995 – Girls' Access to Vocational Education and Training
1995 – Education and Training for Women and Girls, Facts and Figures
1995 – Violence in the Home
1995 – Violence in the Schools
1995 – Traditional Practises Affecting the Health of Women and Children
1995 – Rape of Women in War: A Case Study
1995 – The Dowry
Regional EI Women's Networks
Red de Mujeres trabajadoras de la educación de América latina
South Asian Association for Regional Cooperation (SAARC) Women Network
Association of Southeast Asian Nations (ASEAN) Women's Network
European Trade Union Committee for Education (ETUCE) Gender Equality Project

International Legal Frameworks
UN Convention on the Elimination of all Forms of Discrimination Against Women (CEDAW)
UN Beijing Platform for Action (BPFA)
UN Millennium Development Goals (MDGs)
Conventions enshrined in the ILO Declaration on Fundamental Principles and Rights at Work:
Convention 100 (Equal Remuneration)
Convention 111 (Discrimination)
Convention 156 (Workers with Family Responsibilities)
Convention 175 (Part-Time Work)
Convention 177 (Home Work)
Convention 183 (Maternity Protection)
Conclusions of the ILO Discussion on Decent Work and the Informal economy (2002)
ILO Conference Resolution on gender equality, pay equity, and maternity protection (2004)

UN gender offices and resource pages
UN Women: UN Entity for Gender Equality and the Empowerment of Women
UN Inter-Agency Network on Women and Gender Equality (WomenWatch)
ILO Bureau for Gender Equality
UNESCO Division for Gender Equality
UN Girls' Education Initiative
UNESCO Working Group on Girls