World Congress
Published: 01.04.2011
Last edited:

18.04.2017
Introduction
Education International is governed by the World Congress. Every four years it brings together delegates from all EI member organisations and observers from international organisations and intergovernmental agencies with which EI maintains strong relations.

The World Congress adopts a four year programme, budget and policy resolutions and elects the Executive Board, which monitors and implements EI's activities. The Executive Board meets at least once a year to steer the implementation of decisions taken at the Congress. The Secretariat headquarters of EI is based in Brussels, Belgium. We have regional offices in Europe, Africa, Asia, Latin America and the Caribbean.
World Congress Reports
After each Congress, a comprehensive proceedings report is published. Please follow the links below to access the reports covering previous Congresses.
4th World Congress, Porto Alegre, 2004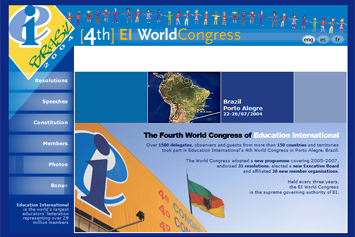 5th World Congress, Berlin, 2007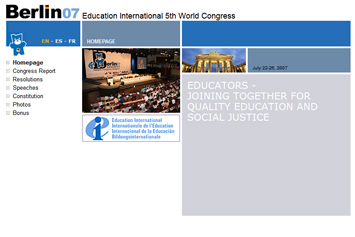 6th World Congress, Cape Town, 2011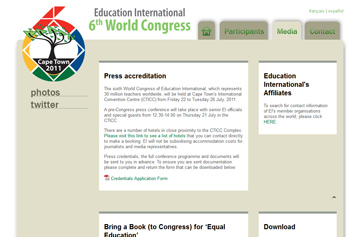 7th World Congress, Ottawa, 2015 - Report