Quality Teaching
Published: 14.02.2012
Last edited:

27.03.2017
Introduction
Education International believes that quality teaching is essential for quality learning. In view of the global challenges that the teaching profession is facing, such as the misuse of standardized testing to gauge teaching standards, we feel strongly that educators should lead the debate about what quality and excellence are when it comes to teaching.

In our Global Policy on Education, it is clearly underlined that teachers at all levels of education must be appropriately trained and qualified, so as to achieve any form of quality teaching. The teaching and learning environment should be designed in such a way that it supports teachers and education employees in their missions.

Teachers should maintain high professional standards and should be accountable to society. To this end, professional standards should be established with the full involvement of the teaching profession in each country, so that teachers feel confident that both their professional standards and their professional development are relevant to their teaching.

To know more about our work on quality teaching, click on the links on the top right-hand corner of this page.
Global Network for Teaching Quality and Effectiveness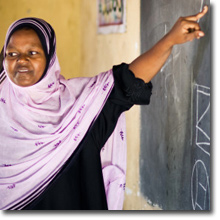 The process of identifying, developing and retaining highly qualified teachers to support student learning, especially the learning needs of the most disadvantaged children, is a global challenge.
In North America and parts of Europe, the status of the teaching profession is on a steady decline, and only a small number of high-performing college students are attracted into the teaching career due to the availability of other career options with more attractive pay and working conditions.
Sub-Saharan Africa experiences acute teacher shortages due to the impact of HIV/AIDS and restrictive budgetary conditions imposed by foreign development agencies.
With the expansion of free public education in Latin America and the Caribbean, school enrollments have skyrocketed, creating overcrowded classrooms with abysmal learning and teaching environments.
In parts of the Asia-Pacific region, there are urgent calls to reform teacher education and preparation programs as nations strive to position themselves to compete in the global economy.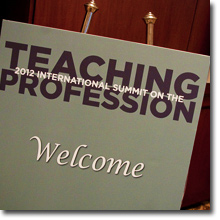 A Response to the Need

Education International, International Council on Education for Teaching, UNESCO, other international organizations and higher education institutions are working to build a global network that brings together education and public policy leaders to facilitate communication across national boundaries on policies and program initiatives to improve teaching quality.

A consultative meeting to map the way forward was held in March 2011 in New York City following the International Summit on the Teaching Profession. This meeting was attended by 34 participants representing various organizations, sectors and regions of the world.

The participants agreed that the Global Network should focus on the entire teaching continuum including recruitment, preparation and development, professional learning, evaluation and compensation, in addition to the contexts in which teachers work in order to improve the quality of education systems.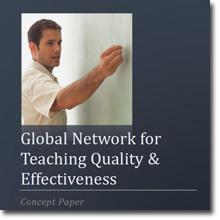 Global Network Operations

Three working groups were formed to address various policies related to teaching quality:
Teacher Preparation, Recruitment and Engagement
Professional Development, Support and Retention
Teacher Evaluation and Compensation

The Global Network will identify and share perspectives on current research, practices, and policy initiatives that can address these three topics on an international scale.

It will also provide opportunities for researchers to share insights on the theories and current bodies of research that support education practices and policies related to quality education, and to provide perspectives on current trends in education policies and practices from across the globe that impact teaching quality.

For more information, please read the Global Network for Teaching Quality and Effectiveness concept paper (PDF).
List of organisations in the Steering Committee
Education International
UNESCO
UNESCO IIEP
UNESCO IICBA
International Council on Education for Teaching
Center for Teaching Quality
Asia Society
Pan African Teachers Centre
Organisation of the American States
US National Board for Professional Teaching Standards
US Department of Education
US National Public Education Support Fund
US National Association of Equal Opportunity in Higher Education
All India Primary Teachers' federation
National Education Association
Caribbean Union of Teachers
Jamaica Teachers' Association
University of Hongkong
Stanford University
George Washington University
University of Toronto
Institute of Educational Leadership

Calendar of events
July 2012, Ghana - Steering committee meeting
2013 - Network Conference
Take part in our Survey!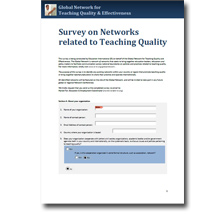 Is your union or organisation part of a national or regional network that discusses teaching quality and effectiveness? If so, do you wish to be take part in the Global Network for Teaching Quality and Effectiveness?
If that is the case, take part in our Survey by filling out this pdf file and submitting it to:Harold Tor, Education & Employment Coordinator (harold.tor@ei-ie.org)
Contact us
For more information about the Global Network for Teaching Quality and Effectiveness, please contact Harold Tor, Education & Employment Coordinator (harold.tor@ei-ie.org).